Ronan O'Connell shares his tips for staying safe in Ireland. From hiking safety to bad weather, here's what you need to keep in mind.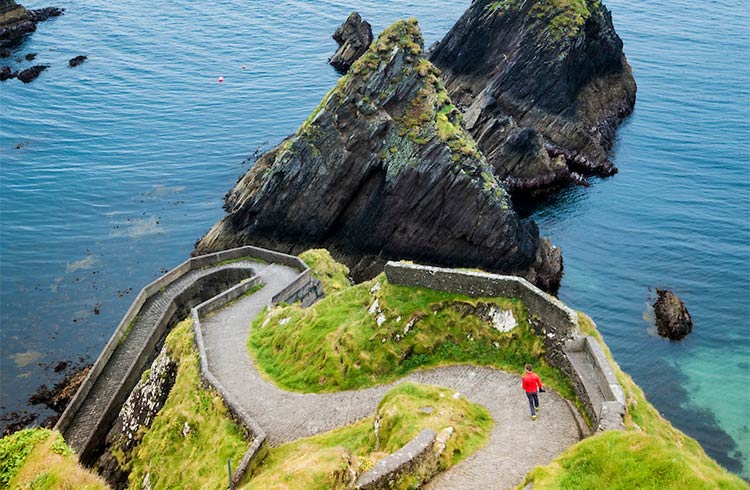 I wasn't prepared for this. Just 10 minutes into my hike up Croagh Patrick mountain in County Mayo, the rain set in remarkably quickly, my shoes slipped on the wet ground and I fell and hurt my hip.
It was dry and sunny when I began my ascent; Ireland's fickle weather has taken another victim. While it may be one of the friendliest and safest countries in the world, traveling in Ireland is not without risk.
Here are some safety tips for your Irish holiday.
1. Ireland's cliffs are deadly
Ireland's dramatic sea cliffs are among the country's most visited attractions. Each year, more than one million visitors head to the stunning Cliffs of Moher in County Clare, while Slieve League in County Donegal is equally spectacular, it is not quite as popular. Rather than putting up fences to stop people going too close to these sheer drops, Irish authorities rely on the common sense of visitors.
Unfortunately, many visitors see the absence of fences as an invitation to go right to the cliff edges, particularly to take photos. This results in many deaths.
At the Cliffs of Moher alone, 66 people died between 1993 and 2017. In July 2019 a student fell while trying to take a selfie, and in October 2019 a young man fell from the cliffs as well.
Please stay well back from the cliff edges.
2. Cycling in Ireland is amazing but dangerous
Ireland's scenery is untamed and very attractive to keen cyclists. However, there are only a few dedicated cycle lanes, and social media is regularly ablaze with complaints about motorists using these same lanes. Country roads are also frequently narrow and dangerous for cyclists. To be safe, cyclists should forget riding on Ireland's roads and stick only to the specific "greenways", smooth tracks reserved for cycling and walking which are normally detached from the roads altogether.
Some of the most scenic and safe places to cycle in Ireland include The Great Western Greenway in County Mayo, The Glenbeigh Greenway in County Kerry, The Galway-Moycullen Greenway in County Galway, and the Waterford Greenway in County Waterford.
Driving hazards are also a risk for road-tripping travelers. Read my tips for safe driving here.
3. Dublin is a friendly city with some crime hotspots
Few capital cities in the world are friendlier than Dublin. The Irish people are famously friendly and many visitors leave Dublin having been charmed by the locals. But there are several spots in the city where travelers must be wary of pickpockets, violence and drug-fueled crime.
The two areas where visitors are most likely to encounter trouble are in the Temple Bar nightlife precinct and the shopping district around Dublin's iconic Spire monument.
Temple Bar is popular with visitors more than locals; prices are inflated, and it's swarmed with drunk people every night.
Temple Bar is a common destination for rowdy stag and hen party groups from across Europe. As a result, it has significant issues with alcohol and drug-fueled violence, and also attracts many shady characters dealing drugs or seeking victims to steal from.
Similarly, dodgy people hang around near the Spire. Pickpockets frequent this area, and it also has a significant population of drug-affected people.
4. Wear an extra-thick wetsuit for surfing
Surfing has become very popular in Ireland, which has some of the best waves in Europe thanks to its long west coastline which is exposed to the rough seas of the Atlantic Ocean.
But, this water is significantly colder than travelers from Australia or the US may be used to. You'll need to buy or hire an extra-thick, neoprene wetsuit, because, by the time you realize your regular wetsuit isn't robust enough, you could already be frozen from the jarring cold.
5. Do not rely on your phone
Some of Ireland's most beautiful areas are isolated, sparsely populated and have limited or sometimes no Wi-Fi signal. So, if you're relying solely upon your phone for live maps and communication, you could get lost quite easily.
Download maps and key information about your destination on your phone as a back-up in case you lose signal.
6. When hiking, prepare for bad weather
Irish weather changes very quickly. Blue, sunny skies can give way to dense cloud and heavy rain in minutes. If you hike dressed for good weather, you're taking a big risk.
Always carry a backpack with warmer and preferably waterproof clothes, just in case Mother Nature is in a bad mood.
Wear proper hiking boots (well broken in), as the wet climate in Ireland means conditions underfoot can often be damp and slippery.
You can buy at home or while traveling, and claim online from anywhere in the world. With 150+ adventure activities covered and 24/7 emergency assistance.