Just how safe is Ethiopia for women traveling alone? We asked Alicia Erickson to share eight of her best tips.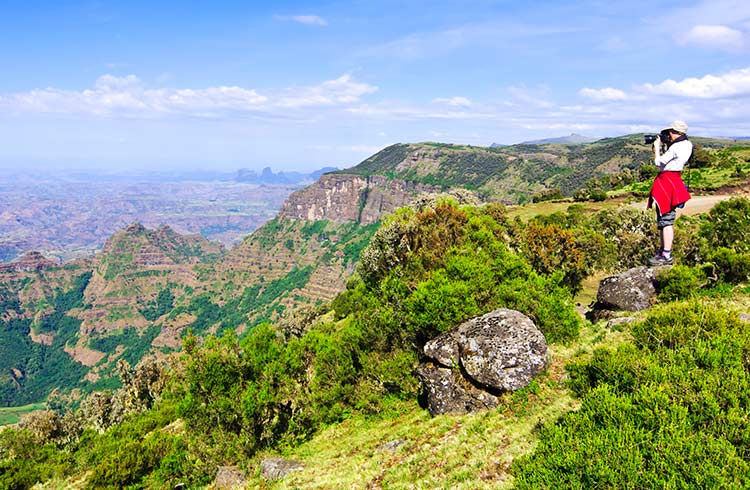 "Hacha!" the elderly Ethiopian woman shouts, clapping her hands and thrusting her hips. The music vibrates against the mud walls of the dimly-lit bar as yet another round of hanuwei (an orange-hued honey wine) is sloshed into our glasses. I stomp my feet on the dirt floor and throw my hands in the air, trying to keep up with the rhythm of the music.
On my first afternoon in Ethiopia, I find myself among a group of Ethiopian women in a humble establishment in Dorze, a village in the country's vibrantly green southern highlands. I have already fallen head-over-heels in love with this country.
As one of two countries on the African continent to never be colonized (despite an Italian occupation between 1936 to 1941), Ethiopia has a distinct language, culture, and cuisine that remains largely preserved today. Ethiopia surprises me in a way few places can. With its staggering mesas (a flat-topped mountain or hill) overlooking deep valleys, where donkeys haul loads up steep cliffs, and bustling markets selling cotton, coffee beans, spices, and incense, the fabled birthplace of coffee evokes a sentiment of stepping foot into a world largely untouched by time.
I knew prior to my trip that travel in Ethiopia was not going to be straightforward, so I went with sufficient time to explore a portion of the country with the intention of returning to explore even more.
I began my trip in Dorze, a lush southern region on the cusp of the Omo Valley; followed by Addis Ababa to learn about the sustainable leather and cotton scene; the remote Danakil Depression renowned for its colorful sulfur lakes; Lalibela famed for the centuries-old rock-hewn churches; and the remote mountains in the Amhara region.
While a lack of infrastructure and clear travel route made navigating Ethiopia challenging, never at any point did I feel unsafe. To date, Ethiopia is one of my favorite countries I have explored.
1. Gender roles in Ethiopia: What to expect
About a year before my December 2019 trip, Ethiopia elected its first female president, Sahle-Work Zewde. Around the same time, Prime Minister Abiy Ahmed appointed women to half the cabinet positions. While these political landmarks received praise on an international level, such change is still evolving locally. Outside of urban centers, gender roles remain largely traditional throughout the country.
Women are commonly responsible for tending to the house and children. Aside from religious sites and the capital city of Addis Ababa, I rarely saw women outside of the house.
I spent a number of afternoons with women learning how to make injera (bread) and to roast coffee in the Amharic highlands, providing an intimate window into their everyday lives.
Dorze was the exception, where women were openly drinking, dancing, and smoking hookah at the local market. Men were generally much more visible in public, assuming roles such as tourist guides and drivers, operating weaving looms, and selling goods at the market.
2. Etiquette tips: What women should and shouldn't do in Ethiopia
There is not necessarily a "do" and "don't" list, but be aware that tourism in many regions of Ethiopia is new. Male guides will be eager to offer you their services, which can be helpful, but use common sense when negotiating costs and maintaining a professional relationship. 
The cultural and geographic knowledge of the guides I met was irreplaceable, but I did encounter an eagerness to know about my personal life. Err on the side of caution if sharing contact details; I had my WhatsApp and social media networks abused by guides and artisans with whom I established a professional working relationship. 
There aren't necessarily places women travelers can't go, but you should be aware of cultural traditions, such as not eating meat during fasting periods.
3. What to wear in Ethiopia
Similar to other countries in East Africa, it is best to dress conservatively in Ethiopia. I opted for long dresses and skirts, loose pants and tops. I always kept a lightweight scarf on hand to cover my head and shoulders when going into religious sites.
The weather can vary drastically between regions. The highlands are extremely hot during the day and very cold after sunset. I piled on all my warm layers at night in the mountains.
Ethiopia is known for its cotton weaving, so you can find an abundance of beautiful hand-woven scarves and blankets across the country, perfect both for warmth and cultural sensitivity.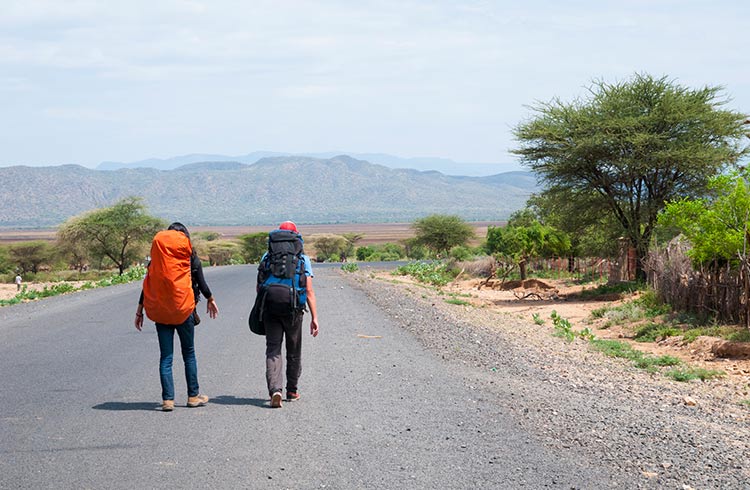 4. What to pack for Ethiopia
Due to the variable climate across regions, loose clothes during daytime and layers for nighttime are important.
A compact down coat, hat, and gloves are recommended.
Sturdy sandals and/or hiking boots are important. Even if you're not trekking in the Simien Mountains, the highlands regions and the Danakil are rocky, mountainous areas, requiring a good pair of shoes.
Running water is rare in rural regions, meaning facilities to wash hands and take showers are intermittent. I relied on hand sanitizer, hand and face wipes, and dry shampoo.
Toiletries are scare, particularly outside of Addis Ababa, so come prepared with what you will need, including toothpaste and sanitary items.
Also bring ample sunscreen, which is very important for the Danakil Depression and the high altitude areas.
Other items that came in handy included toilet paper, a headlamp, water purification tablets, and a quick drying towel.
5. Nightlife safety for women
Outside of Addis Ababa, there is little nightlife in Ethiopia. You can find live music performances and local bars in areas such as Mekele and Lalibela, which are safe places to go out at night.
In rural areas, join in at music and dance gatherings if they present themselves, but otherwise you'll find the nights are quiet.
In Addis, it is safe to walk around alone during the day but it's best to take a taxi at night. Violent crime is rare, though petty crime such as pickpocketing can be an issue.
6. Accommodation safety tips
Accommodation is extremely variable throughout the country. I camped in the Danakil, stayed in guesthouses in small towns, rented an Airbnb in Addis, and stayed in eco-friendly homestay-style homes in Dorze and the Amhara highlands. 
There is no fast and hard rule on this except to stay at official establishments when possible. The homestays I encountered provided separate tukuls (round, thatched huts) for each guest, so safety was never a concern. I didn't experience camping in areas outside the Danakil, though I would not anticipate safety is a concern being in the mountain regions. The biggest concern is bringing enough warm clothes for the cold nights.
7. Travel logistics for women getting around Ethiopia
Ethiopia is a large country with a complicated transport system. Local bus schedules are unclear and don't necessarily include routes to places you want to go to.
Booking private transfers is possible but can get expensive, especially if you are traveling alone. I booked my arrival flight on Ethiopian Airlines, which gave me significant discounts on local flights in a network that covers a number of regions.
The best thing to do is to give yourself time and flexibility in your itinerary.
Buses are possible with a bit of time and asking around. Even when I got stuck on a mountain road due to a truck accident blocking the path, I managed to find buses across the ravine taking passengers in the opposite direction.
8. Places to be cautious as a solo woman traveler
There are no places I would not recommend for solo women travelers, though keep in mind that foreign women are likely to attract more attention and stares than men. This holds true both in rural areas, where there is a lack of exposure to tourists, as well as in city centers, where I would frequently be stopped on the streets by men wanting to engage in conversation. I met numerous travelers who had rocks thrown at them while cycling through remote areas of Ethiopia. However, I hiked through rural villages and was often welcomed in for coffee and lunch.
Political tensions can be an issue in Ethiopia. When I was there at the end of 2019, there was a lot of political discussion around the new party in power. The country is largely divided along ethnic divides, which can result in regional instability.
Significant internal displacement was occurring as a result of famine and political conflict, though this would not necessarily impact the everyday traveler in the common areas of tourism.
Border regions are also best avoided, though likely will not be an issue for most travelers unless intending to take an extensive overland, cross-country excursion.
Have you traveled to Ethiopia as a solo woman? Share your experience with us below!
You can buy at home or while traveling, and claim online from anywhere in the world. With 150+ adventure activities covered and 24/7 emergency assistance.